KUALA LUMPUR OFFICE MARKET REVIEW
by Rahim & Co Research Sdn Bhd
The main driver of growth for the office space market in Kuala Lumpur has typically been the nation's high economic growth. Demand for office space was at constant high during the early 90's but changed significantly due to the regional economic crisis in 1998. The demand for office space declined, made worse by the oversupply situation and poor absorption rate of office space. This has been the scenario of the KL office market since 1998 until recently, where economic growth has picked up and gradually renewing interest in the office property market.
The domestic economy expanded by 7.1% in 2004, charting the most impressive economic growth since year 2000. Last year's GDP growth was the highest when compared to the previous two years GDP figure of 4.1% (year 2002) and 5.3% (year 2003). The private sector continued to be forerunner of the economic growth, providing the platform and impetus for sustained expansion. Sectors that have contributed to the economic expansion were manufacturing, services and higher prices for primary commodities.
The strong expansion in the manufacturing sector is attributed to the higher demand from export and domestic-oriented industries. Stable employment market and higher consumer spending, coupled with higher tourism activities drove the growth in the services sector. The expansion in finance, insurance, real estate and business services sub-sector, telecommunications industry, private education and private healthcare services further boost the growth of the services sector.
In addition to strong GDP growth, other economic indicators also showed positive signs with unemployment rate remained unchanged from the last 2 years figure of 3.5% and higher demand for employment with the expansion of private investment. Consumer Price Index (CPI) growth rate has remained stable in 2004 at 1.4%, one of the lowest in the region.
Property Market Review
Since the economic crisis in 1998, occupancy rates recorded were below the 80% mark with the softening market and poor absorption. In the midst of subdued demand, some tenants chose to relocate to cheaper alternative accommodations to reduce costs while others resorted to downsizing the business or even cease its operation totally.
In the midst of subdued demand, some tenants chose to relocate to cheaper alternative accommodations to reduce costs while others resorted to downsizing the business or even cease its operation totally. When the government's office beginning to shift to Putrajaya in 2000, further decline was noted in the occupancy rates especially secondary office buildings in the city of Kuala Lumpur. The following chart illustrates the 12-year trend of supply and occupancy rates.
The 12-year trend of supply and occupancy for purpose-built offices in Kuala Lumpur
Year

No. of building

Total supply (sf)

Occupancy

(sf)

%

1993

215

31,926,541

29,062,671

91

1994

223

33,765,645

31,748,709

94

1995

232

36,359,048

34,663,320

95.3

1996

144

38,809,720

36,933,415

95.2

1997

252

42,576,668

41,606,143

97.7

1998

272

50,250,453

41,251,071

82.1

1999

284

54,111,026

41,626,239

76.9

2000

355

62,418,595

48,431,111

77.6

2001

373

66,046,645

49,641,955

75.2

2002

376

67,573,945

51,326,688

76.0

2003

378

68,095,176

53,382,270

78.4

1H2004*

376

63,270,592

50,804,230

80.3
Note: * Half-yearly figure as at June 2004
Source: Property Market Reports 1993-1H2004
In 1H2004, there was a decline in the occupancy rates for buildings in the Central Business District (CBD) for older office buildings. Darby. Based on a y-o-y comparison, average occupancy rate in CBD declined by 0.8% from 82.3% in year 2003 to 81.5% in year 2004.
For offices located along Jalan Ampang, occupancy rose to 84.6% in year 2004, the highest occupancy rate reflecting market's preference and its popularity, particularly for offices located near KLCC Twin Towers. Offices in the suburban area of Bangsar and Damansara recorded significant rise of 4.2%, from 75.8% (year 2003) to 80% (1H2004).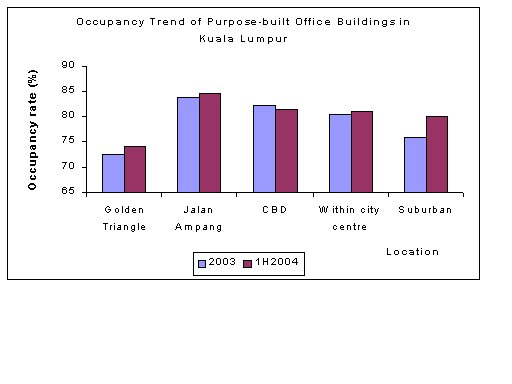 RENTAL RATES AND CAPITAL VALUES
Generally, the rental market remained stable with some office buildings recording mixed performance in 2004. With the improved market sentiment on the property and investment front, prime office buildings in Golden Triangle and Jalan Ampang managed to secure good rentals, ranging between RM5.00- RM8.00 psf. Older buildings such as Bangunan MAS and Wisma Haw Par in the Golden Triangle, declined about 4%-5% from 2003 to the current rate of RM3.00-3.50 psf and RM1.80 to RM2.00 psf respectively.
In the Central Business District (CBD), rental rates were hovering at between RM1.90 - RM4.00 psf, with older buildings such as Wisma Sime Darby and Menara Tun Razak recording lower rentals. Office buildings in the suburban such as Wisma Semantan remained stable with average rental at RM3.50 psf while Menara Millenium recorded higher average rental rate of RM4.50 psf.
In 2004, capital value for office space in the Golden Triangle area ranged between RM350 to RM450 psf. Analysis on the capital value revealed that purpose-built office buildings in the Golden Triangle area that changed hands recently shows positive market sentiment. The following tabulates some major transactions:
Office Building

Net Lettable Area

(sq ft)

Total Value Transacted

(RM million)

Value Transacted

(RM psf)

MUI Plaza

345,564

166

480

Menara Weld

409,836

150

366

Wisma KFC

175,438

90

513

Menara Cyclecarri

397,727

140

352
Both yield and capital value were quite unattractive during the recession period due to lack of demand in the office market, hence, resulting in the rental pushed downward. However, the office market has since improved, in tandem with the assuring economic recovery. The current average yield for offices in Kuala Lumpur ranged from 6% to 8% depending on the office buildings, location, rental rates etc.
MARKET OUTLOOK
With the Government's effort to promote Real Estate Investment Trusts (REITs) in Malaysia, there is definitely renewed interest on the investment front for commercial properties in the recent few months. Coupled with the optimistic projected economic growth of 6% for this year, the office sector is looking bright again, with higher take-up anticipated from oil and gas companies, expansion of regional offices and relocation of some regional back office operations. For instance, global investment bank, Credit Suisse First Boston, expressed their confidence in the Malaysian market by committing 7,300 sq ft of office space in Menara IMC at Jalan Sultan Ismail. With the liberalisation efforts announced in Budget 2005 for the setting-up of foreign stockbroking on our local shore, we anticipate more foreign firms taking up space in prime offices in Kuala Lumpur this year. Some of the firms that have been approved to set up their offices here along with Credit Suisse are JP Morgan, CLSA, Macquarie and UBS.