UPCOMING PROJECTS
MALAYSIA-SINGAPORE SECOND CROSSING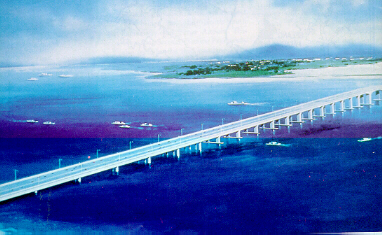 The idea was first conceived almost 2 1/2 decades ago, up to 55,000 vehicles use the existing 70-year old causeway between Johor Bahru and Woodlands daily. It is congested and no longer adequate in catering to the increasing level of traffic. A new bridge was therefore needed to improve the land-based transportation service between Malaysia and Singapore. With a total estimated cost of RM1.3 billion, this mammoth project is being undertaken by Linkedua (Malaysia) Berhad, (LINK) a wholly owned subsidiary of United Engineers Malaysia Bhd (UEM). It will serve as and alternative route for inter-country travellers and its adjoining expressways are expected to boost traffic volume along the bridge, enabling vehicles to avoid the busy Johor Bahru city centre. (Picture)
The US$1bn Malaysia-Singapore Second Crossing (Linkedua) was declared open on April 18th, 1998 jointly by Singapore PM Goh Chok Tong and Malaysian PM Dr. Mahathir Mohamad. This marks the culmination of eight years of work on the bridge, which links Kampung Ladang at Tanjung Kupang in Johor (Malaysia) to Jalan Ahmad Ibrahim at Tuas on Singapore's western tip. Spanning 2km, about 1.7km of the three-lane dual carriageway is over Malaysian waters, with a maximum navigational clearance of 75m in the center.
With its spacious six lanes, the new bridge will have a capacity of 200,000 vehicles a day, which is four times the load on the old Causeway linking Johor Baru and Woodlands, Singapore. The difference between two linkways is that the new one avoids the busy Johor Bahru city area. Thus, it will enable travellers to escape heavy city traffic. Alternatively, travellers heading north from Singapore will enjoy 'smooth' accessibility via the second crossing expressway, all the way to the existing North-South Expressway. Moreover, the new customs and immigration clearance will feature 24 lanes for the convenience of bridge users.
The bridge will be linked to a 44km new expressway (MAP) leading to the North-South Expressway, the Senai Airport and Johor Baru. The adjoining expressway, which comprises the dual two-lane, 21.5 km long Northern Link and the dual three-lane, 14 km long Southern Link, will connect the bridge to the North-South Expressway also includes the dual two-lane Johor Bahru Parkway which will run from the proposed Pulai Interchange to Johor Bahru city as well as the port and industrial area of Pasir Gudang. One interchange will be constructed south of Gelang Patah approximately 10 km from the crosslink to provide access to and from the 'new town development area'
A 2 metre wide paved shoulder will be provided along each carriageway for emergency stops of breakdown of vehicles. In addition, there will also be an emergency U-turn facility at the centre of the Malaysian main navigational span. An emergency telephone system, street lighting, 3 toll plazas, rest/service areas and the Customs, Immigration and Quarantine (CIQ) facilities at both ends of the bridge.
Linkedua (M) Berhad manages, operates and maintains the MSSC bridge and 44 km of interlinking expressways connected to the bridge. Linkedua will be responsible for toll collection for the duration of the concession period of 30 years up to year 2023, subject to extension or earlier termination.
NORTH-SOUTH EXPRESSWAY
www.plus.com.my
Projek Lebuhraya Utara-Selatan
With the North-South Expressway (NSE), motorists have a well-paved route from Singapore to the border of Thailand without narrow, winding, congested and potholed roads. Malacca can be reached in two hours, Kuala Lumpur in three and Kedah in 10 from Singapore.
To get on the expressway, head east from the Causeway check-point and follow the coastal road, looking for signs pointing to the Expressway. Alternatively, use the intuitively-named Second Link and follow the signs. This may be an easier route.
The NSE was declared open by Prime Minister Mahathir Mohamad in September 1994, although it has been operational since February, 15 months ahead of schedule. Built at a cost of RM6 billion, the 848-km expressway cuts across eight Malaysian states along the west coast of the Peninsular. The southern track cuts through paddy fields, oil palm estates and pineapple plantations, while the northern one goes through granite hills, with massive rocks lining both sides of the expressway.
The NSE makes a loop into downtown KL before moving up north, which means that you could be caught in a jam along the 13-km stretch for about an hour. The 30.3 km stretch between Tapah and Gopeng is the most expensive (RM20 million), the most scenic, and the most dangerous, with climbing roads and horse-shoe bends.
There are plans for Thailand to link the Expressway to the newly-opened Friendship Bridge which joins Thailand with Laos across the Mekong River.
NORTH-SOUTH EXPRESSWAY CENTRAL LINK
(MAP) Expressway Lingkaran Tengah Sdn Bhd (ELITE), also called Route E6, holds the concession for the design, construction, operation, maintenance and management of the North-South Expressway Central Link (NSECL) and the KLIA Expressway. The 54-km NSECL starts from the Shah Alam interchange near PLUS' New Klang Valley Expressway (NKVE), traversing southwards towards the Kuala Lumpur International Airport (KLIA) and turning eastwards to connect with PLUS' North-South Expressway at the Nilai Interchange. Connected to the NSECL are two spur highways connecting to Cyberjaya/Putrajaya and the Kuala Lumpur International Airport (KLIA). ELITE is in the final stage of negotiations with the Government for the design of the Putrajaya link road. This will be a new 8.8-km dual 2-lane carriageway leading into the heart of the Putrajaya and Cyberjaya townships, located within the MSC.
MALAYSIA-THAILAND LANDBRIDGE
This is the newest RM10bn project announced in Dec '97 while the Asian crisis is still underway. The 200km bridge is intended to be a road and rail link and would carry oil and gas pipelines between Malaysia's northern island state of Penang (which is a large port) and Songkhla in southern Thailand; thereby eliminating the need to circumnavigate Peninsular Malaysia and Singapore and will also cut shipping congestion along the Straits of Malacca which is a heavily used shipping lane between the Indian Ocean and the Pacific Ocean.
UPDATE: As of Dec 5th, the Deputy PM said that only the gas pipelines will be built (RM1.8bn) in line with an 18% cut in government expenditure and a reduction in the current-account deficit to 3% of GDP.
KUALA LUMPUR LINEAR CITY (KLLC)

This project is expected to cost between RM5-10bn and go on for 20-25 years. The KLLC is lifted gracefully over certain stretches of the Klang River that meanders from the heart of the city to one of the most populous corridor of KL (a distance of 12km from Jalan Tun Razak to Old Klang Rd) and consists of mixed developments (including the 1.8km long Gigaworld - a massive retail-office-hotel-apartment complex) and is integrated by a 15km long elevated People-mover Rapid Transit System (PRT). The PRT is integrated with the LRT1 and LRT2 transit systems [see above] and the massive KL Sentral (map). Both the PRT (with its 22 stations) and Gigaworld are expected to be completed by the year 2000 and is expected to cost RM2.2 billion. The PRT is being built by a Malaysian-Japanese venture called KL PRT Sdn Bhd led by businessman Vincent Tan of multi-industry firm Berjaya Group Bhd. Also included is a 99-yr river cleaning and flood mitigation project plus a 12 km long landscape linear park. An artist's impression of Gigaworld and a cross-section of this complex. More drawings of Gigaworld : 1 and 2.
BERJAYA TIMES SQUARE
Berjaya Times Square is a mammoth RM1.9bn, 6.8 million square feet commercial development which includes retail, leisure and entertainment, hotel and service suites. It will also be flanked by two 47-storey towers topped by a helipad. Touted to be Asia's largest inner-city shopping-cum-leisure mall. It comprises 2,000,000 sq ft of retail space, 800 dual frontage Atrium shops, 12 anchor tenants, an indoor theme park complete with Asia's longest indoor roller coaster, Asia's largest indoor water theme park, an extreme sports arena (skateboarding, rock climbing), a 56-lane bowling alley, 50 cafes, bistros and restaurants and 8 cinemas (UA). This would also be one of the largest buildings in the world, situated on a 12.7 acre (5.08 ha) site, housing six complementary buildings in a single structure with a built-up area of 7.5 mn sq ft. Soaring 203m/666ft above the city, Berjaya Times Square is located on Jalan Imbi in the heart of KL's shopping district (Bukit Bintang). It is scheduled to open in mid-2002.
The 7.5 million sq ft Berjaya Times Square in KL will have six components: indoor theme park (450,000 sq ft), extreme sports area (130,000 sq ft), shopping mall (2 million sq ft), food and entertainment centre (300,000 sq ft), hotel and serviced suites (1.75 million sq ft) and corporate offices (420,000 sq ft).
Work on the monorail (which was stalled during the recession) has been speeded up. It will ferry shoppers and visitors to Berjaya Times Square with ease. This huge shopping centre, located in the famous Bukit Bintang shopping belt, is envisaged to be a major tourist attraction and crowd puller.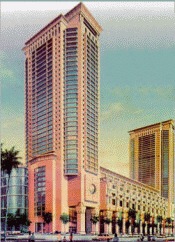 PLAZA RAKYAT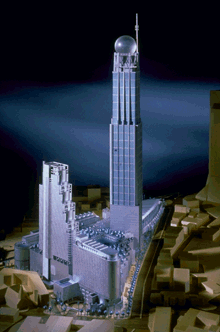 Plaza Rakyat is already crowned the 7th-tallest building in the world by the Council on Tall Buildings and Urban Habitat (CTBUH); rising to a height of 382m or 1254ft.
Designed as a gathering place for city residents, Plaza Rakyat is an urban node that integrates the city's cultural legacy with 21st century architecture, and links this rapidly growing capital city to the expanding region.
Part of what will be "Asia's largest single architectural works project", the anchor 1mn sq ft, 79-story tower will be on the western edge of this irregular-shaped site with a 44-story 315-unit service apartment complex, a 20-story 415-room four-star hotel, and several other buildings. All told, the site would include 6.6 million sq ft of mixed-use development centered around a major retail development of 1.7mn sq ft (which includes seven Cineplex theaters and an entertainment center).
Located on Jalan Pudu adjacent to the over-congested Klang Bus Stand, Plaza Rakyat includes a bus terminus which would serve as the focal point of the entire country's bus network. This enormous project will create a vibrant civic facade along Jalan Pudu, Kuala Lumpur's busiest thoroughfare. It is designed by Skidmore, Owings & Merrill who, incidentally, are the people who designed the Sears Tower in Chicago.
PLAZA MERDEKA
Plaza Merdeka or Independence Plaza is a redevelopment of the site now currently occupied by two of Malaysia's most famous sports venues; Stadium Merdeka and Stadium Negara. This project, estimated to cost RM1bn, will comprise of office blocks, a retail and shopping complex and entertainment center, condominiums and leisure facilities, including a park, and an amphitheater designed for cultural and social events that can seat 8,000 on a 13-hectare site. This is a shame, really, because Stadium Merdeka is where our first Prime Minister YTM Tuanku Abdul Rahman Putra Al-Haj first declared Malaysia's independence from the British on August 31st, 1957. Having a national landmark demolished in the name of entertainment is not something Malaysians are quite proud of. Oh well:)
In 1994, Stadium Merdeka was handed to United Engineers Malaysia (UEM) in exchange for two stadiums at Bukit Kiara and five stadiums at Bukit Jalil which were used for the Commonwealth Games.
UEM's initial plan was to develop the place into a commercial complex but the recession put things on hold.There are some people who feel the Merdeka stadium should be conserved as a national heritage.
CAPITAL SQUARE
This project involves the largest single piece of commercial land measuring 15 acres in the central business district of Kuala Lumpur. This area has been earmarked for the RM1.5 billion Capital Square project - one of Malaysia's first multi-functional complexes, which aims at providing superior living facilities and comfort in line with its "City Within The City" concept. Upon completion, Capital Square will feature two corporate towers with a total 1.5 million square feet of office space, an 800,000 square feet retail shopping mall, a "six star" all-suite hotel and two condominium towers (36-story and 27-story) all linked together by a 3000-vehicle underground car park.
MENARA TELEKOM
"A New Landmark for the New Millennium". No, the proud city of Kuala Lumpur is never shy about her superlatives.
MENARA TELEKOM (map, site map) is a state-of-the-art 6-star DBKL rated intelligent office building, 1.6mn sq ft, 55 storey high and shaped to represent a sprouting "bamboo shoot" that leaves behind a unique landmark. Standing 310m/1017ft that cannot be mistaken for just another high rise in the city of Kuala Lumpur, this new landmark will be Telekom Malaysia's Corporate Head Office come July 1999.

This stunning piece of architecture located conspicuously along the Federal Highway and Jalan Pantai Baru is served by the Kerinchi LRT commuter station.
Spread over an almost 8-acre land, MENARA TELEKOM provides its occupants such amenities as a multi-purpose/games hall, a medical centre, a child-care centre, a fitness gymnasium, an international class auditorium cum exhibition area, a supporting retail area, a range of food outlets and ample parking space. A surau is also provided. The prestigious development from Telekom Malaysia will accommodate Telekom Malaysia Divisions and Subsidiaries within the 16 lower levels whilst the other floors are available for commercial let-out.