Home   About Us   Contact Us    To Sell/Let A Property   To Buy / Rent A Property   Search Property Forum Faq  Loan Calculator Member
KUALA LUMPUR SENTRAL (KLS)
@ http://www.stesensentral.com/
@ http://www.klsentral.com.my/
APRIL 16, 2001 - KTM Bhd commuter service and Putra LRT (light rail transit) will start plying the Kuala Lumpur Sentral Station today. With this, the only train service yet to commence operation was the Express Rail Link (ERL). The ERL is expected to commence service by next year.

When it is completed, Kuala Lumpur Sentral will make available 19.1 millions of square feet of world-class working, living and leisure space. At the heart of Kuala Lumpur Sentral is a transportation hub that brings together the commuter, intercity and airport express rail networks with Kuala Lumpur's light rail transit system. Sentral is a mid-point halt along the city's light rail system that passes right inside the transportation hub. Sentral serves the PUTRA-LRT and the KL Monorail, which together with STAR-LRT will form the backbone of urban KL's future transportation network (map). Planted in and around this flow of transportation arteries will be a collection of carefully integrated commercial office buildings, hotels, retail, residential condominiums and recreational (30 acres of green park) developments. It'll have satellite and fiber-optic links making it a smart integrated all-in-one city-within-city.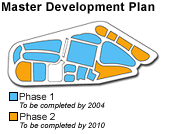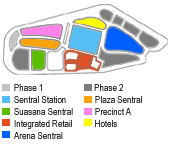 KL Sentral, the epitome of world-class working, living and leisure place. The state-of-the-art transportation hub at its very core will make KL Sentral truly the nucleus of the nation. The development of KL Sentral is divided into two phases. Phase One comprise of the 400,000 sq ft Sentral Station, Integrated Retail Centre (1.2mn sq ft), Plaza Sentral Office Suites (1.25mn sq ft), Suasana Sentral (400 units condominuim), Hotels (4-star Le Meridien Hotel with 422 rooms and 5-star Hilton Hotel with 513 rooms) and lots of office space (3.6mn sq ft). Phase One is expected to be completed by year 2004. Phase Two, comprising of Arena Sentral (1.14mn sq ft), 400 more units of condominium and 5.4mn sq ft of office space, is expected to be fully completed by year 2010.
The Kuala Lumpur Sentral project covers an area of 28.8 hectares (71 acres) and is expected to be completed by 2010. The five-level KL Sentral Station building is located on 9.3 acres of land. It comprises two main areas, the main station and the maintenance depot. The station will have 28 tracks, 12 passenger tracks, 14 maintenance tracks and two freight tracks. There will be 12 platforms in the main station -- two each for KTM Bhd and KTM Intercity, four for KTM Komuter, two each for Express Rail Link (ERL) Commuter and Putra LRT. The main station will be able to accommodate 50 million passengers a year and up to 100 million by 2020.
LOCATION (Accessibility by road, rail
To view the KLS masterplan, click here or here for an artist's impression. Where is the KLS? KLS is linked to the Middle Ring Road and from there to the major expressways and surrounding suburbs; effectively bypassing heavy city center traffic. With the completion of the proposed multi-million ringgit upgrading program on the surrounding roads, access to KLS will be further enhanced. Click here for a map or here for a view from above. Click here for a local map of Sentral and its surroundings.
After 90 years, last train rolls into KL Railway Station
KUALA LUMPUR: The Kuala Lumpur Railway Station received its last intercity train service on April 15, 2001 with the arrival of the Senandung Malam at 10.30pm. It marked the end of the station's 90-year period as the central hub of rail transportation in the peninsula.
As of April 16, 2001 all KTM Berhad intercity services to the north, south and the east coast will operate from the new Kuala Lumpur Sentral Station located in nearby Brickfields. According to duty station manager Sulaiman Murad, the first intercity train to arrive at the KL Sentral today will be the 7am Express Kenari.
Only KTM Komuter services will continue to stop at the old KL Railway Station. The old station, with its distinct Moorish architecture was designed by A. R. Hubback who also designed the Masjid Jamek. The old station first began operation in 1911. Station Hotel supervisor Anthony Kau said the Kuala Lumpur station, which exudes colonial charm, will still attract tourists.
"I don't think our business will be affected as passengers can just hop on the commuter train to come to the old station,'' he said.
---
Kuala Lumpur City Air Terminal (KL CAT)
Virtual Airport in the City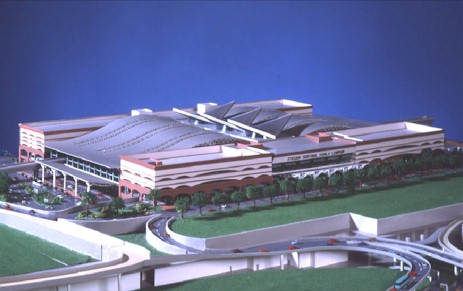 Kuala Lumpur City Air Terminal (KL CAT), located within the KL Sentral development in the heart of the city, will serve as an extension of KLIA in the city. Linking the terminals in 28 minutes is KLIA Ekspres (see below), among the world's first airport express services and the fastest way between airport and city. KL CAT is modeled on the concept of an airport within a busy business district providing convenience, comfort, efficiency and quality service to airline passengers. It was designed to complement KLIA's Forest In The Airport by the same mastermind, the celebrated architect, Dr Kisho Kurokawa.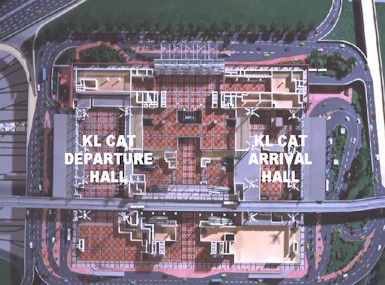 If you're flying with Malaysia Airlines, you can check in your luggage at KL CAT and receive your boarding pass. There's a minimum check-in time of two hours (in the future, 1 ½ hours) before your flight departure. MAS offers early check-in for same-day flights, so you can check in your luggage in the morning for a night flight and enjoy a day of sightseeing and shopping or attend to business without being weighed down. Your luggage will be tagged to your flight destination and automatically transferred to KLIA onboard the luggage car on the KLIA Ekspres. The baggage handling system is integrated with that of KLIA and every piece is bar-coded. Together with other security features, we ensure your luggage remains safe and secure. Later, you can board the KLIA Ekspres and head straight for the departure gate in the new Kuala Lumpur International Airport (KLIA) at Sepang. All that in 28 minutes!
KL Sentral will have Customs and Immigration counters that will provide the convenience of check-in and check-through facilities allowing passengers to check their bags early. The check-in facility at KL CAT allows air passengers to check-in for their flight at KLIA. After checking-in, passengers can board the train to KLIA, go through immigration and from then on, straight for their flight.
Meanwhile, the checkout facility allows airline passengers to:
check-in their baggage from original port to Malaysia's newest destination, XKL

board the flight to KLIA

pass through immigration upon arrival at KLIA

board the CityAir service to KL CAT

collect their baggage, and clear customs only at KL CAT
The check-through facility allows air passengers to check-in their baggage from their point of origin, board the flight to KLIA, pass through immigration, board the train, pick up their baggage and clear customs only at KL CAT.
With this seamless air-rail experience, airline passengers will no longer need to spend a long time on the journey to and from the KLIA. Waiting time for departure is also greatly reduced.
KL CAT is not only a hub for air travellers, it is a comfortable and convenient place to meet or send off someone. Besides offering interesting and unique shopping ambience amidst palm trees and open spaces, it has the following facilities and services for travelers:
Airline ticketing
Customer Service and Information Counter providing flight information, train schedules and other useful travel information
Travel boutique
Hotel desks and feeder services from/to major hotels
Left luggage and Trolley Facilities
ATMs
Business Lounge/Centre
Banking kiosks
Currency exchange
Telecommunications
Medical services
Muslim prayer room
Taxis
Car rental
Post Office
Restaurants and Cafes
Branded Goods
Gift Shops

Arrival facilities for the disabled

Car Park

Personalized arrival/departure services
For more information, call KLIA Ekspres Customer Enquiry at 03-2267 8000, or fax 03-2267 8910
---
EXPRESS RAIL LINK (ERL)
@ http://www.kliaekspres.com/
Commencement of KLIA Ekspres Service and KL City Air Terminal - 14 April 2002
The delayed Express Rail Link (ERL) project which links KL Sentral station with the Kuala Lumpur International Airport (KLIA) 70km (43 miles) away is finally back on track, with the signing of an agreement with German financiers last week. Express Rail Link Sdn Bhd, spearheaded by infrastructure developer YTL Corporation Bhd, has awarded its engineering, procurement and construction contract to a group which includes a unit of YTL and German firm Siemens AG.
The ERL was initially planned to be operational for KLIA's opening in June 1998. The project is now expected to cost about RM2.8bn (US$730mn). The first trains are expected to run in 2002, some four years behind schedule.
The main terminals are at Kuala Lumpur Sentral Station (Brickfields) and Kuala Lumpur International Airport (Sepang). The route between these two stations is approximately 57 km (35.4 miles) in length, of which there will be 1.5 km. of bridges and 0.5 km. of underbridge. There will be one double-tracked, bi-directional working system for both direct and commuter services.
KLIA EKSPRES
KLIA Ekspres is a high-speed direct rail service between KLIA and the city. The KLIA Ekspres service will be a 24-hour, premium, high-quality direct service, with journey times of not more than 30 minutes at 15 minutes frequency during peak hours. With seating capacity for 156 passengers per four-car train set, it offers the luxurious ambience and amenities found in the business class of airlines. The interior is being designed to provide the feel and comfort of an airline business class environment. Facilities available include generous luggage areas, on-board information system, mobile telephone coverage, computer connections, wheelchair-friendly washroom, wheelchair seat compartment, overhead racks for light luggage, racks for large luggage, and soon, digital entertainment and news broadcasts. The rail service will run on the standard-gauge track, reaching a maximum speed of 160kph (100mph). A projection of about 20% of the passengers going through KLIA will use the Express Rail Link.
First train 5.00am
Last train 1.00am
Departure every 15 minutes
Journey time 28 minutes (non-stop)
KLIA Ekspres' ticket can be purchased through ticket vending machines or ticket counters at KLIA and KL CAT or at authorized travel agents and hotels. The machines accept payment by cash and credit card. For frequent travelers, stored value tickets are available at ticket counters. Seat reservation is not required.
Fares (Ringgit Malaysia)
Single RM35 (Adult) RM15 (Child)
Return RM70 (Adult) RM30 (Child)
KLIA TRANSIT
While the KLIA Ekspres will be a direct rail service from KL Sentral to KLIA, KLIA Transit will act as the high-speed commuter rail service with quick stops at three key townships along the Multimedia Super Corridor. KLIA Transit will serve the intermediate townships of Salak Tinggi, Putrajaya/Cyberjaya and Bandar Tasik Selatan with journey time to KLIA of less than 37 minutes, at half hour frequencies. It can comfortably accommodate 540 passengers including standing passengers. This four-car train set is fully air-conditioned. The comfort of commuters has been taken into consideration in the interior design. Luggage areas, digital mobile phone coverage and facilities for the disabled will be provided.
First train 5.32am
Last train 12.32am
Journey time 37 minutes (3-stops)
The ERL will provide "door to door service" to the last mileage by linking up with bus companies to ferry passengers to their hotels. Package deals will be introduced whereby all the convenience will be included in the price of the ticket.
TRACK ALIGNMENT
From Kuala Lumpur Sentral station, the track runs southwards alongside the Keretapi Tanah Melayu Berhad's (KTMB) corridor where at Bandar Tasik Selatan, the first intermediate station will be located. The track continues to run side by side the KTMB corridor before deviating to cross the PLUS Expressway near the University Putra Malaysia's (UPM) toll plaza.
The journey continues through the grounds of UPM and MARDI before going into Putrajaya area. The second intermediate station is located within Putrajaya's integrated Western Transport Terminal.
From here, the track skirts slightly into Cyberjaya's land and continues southwards, crossing Sungai Langat (Langat River) before reaching the next CRS station at Salak Tinggi. ERL's Maintenance and Administration Centre which accommodates administration building, stabling yard, workshop and test track will also be located at Salak Tinggi.
The track continues from Salak Tinggi and crosses the JKR's B20 Road into the KLIA perimeter before reaching its final destination within KLIA's Main Terminal Building on the ground floor.
Air-rail express takes flight
www.thestar.com.my
A new era of train travel begins Apr 14, 2002 with the start of commercial services for the KLIA Express, which links KL Sentral with KLIA.
AFTER six eventful years, which included two economic downturns and corporate shake-ups never seen before in this country, the ultra-modern high-speed rail link between Kuala Lumpur and its international airport in Sepang has at last started running. At exactly 8am, the first two KLIA Express trains carrying their pioneer loads of fare-paying passengers left both KL Sentral and the Kuala Lumpur International Airport, ushering in a new era for public transport travel in this country.
There is every reason to celebrate for the KLIA Express sets several impressive firsts, not only in Malaysia, but also in the region. Cruising at 160kph (100mph), there is no other form of land transportation – besides Formula One cars – which can move faster. Such speeds allow trains to cover the 57km distance between Kuala Lumpur and KLIA in 28mins, making it the quickest travel option to KLIA from the city centre.
The opening of KLIA Express also entitles Kuala Lumpur membership to the elite club of cities that have what people in the transport industry call "air-rail links". The phrase means airports that are linked to the heart of the cities, which they serve, with high-speed trains that are specifically built for this purpose. At the moment, members of the club include Hong Kong, which has a 34km rail link between Central on Hong Kong Island and the new airport on Chek Lap Kok; London with its Heathrow Express and Gatwick Express; Oslo with its Flytoget Airport Express Train, Stockholm with its Arlanda Express, and Tokyo with its Narita Express. Other cities are planning similar services.
Again, the KLIA Express is the only one in South-East Asia. Singapore's recently opened Changi Airport Mass Rapid Transit extension is a conventional urban metro system which serves the airport not too differently from any other suburban station.
One thing which sets air-rail link systems apart from conventional urban, suburban or intercity rail services is the availability of airport facilities at their city terminals. Of these, the most important is the check-in, which allows passengers to check-in their baggage at the train station as if they were already at the airport. Check-out facilities are also part and parcel of such systems, although this is not as common.
With the opening of the Kuala Lumpur City Air Terminal (KLCAT) at KL Sentral, passengers can check their baggage in before boarding the train to KLIA. Passengers with late flights can even check-in their baggage earlier, allowing them to attend meetings or go sightseeing in the city before boarding the train just in time to catch their flight.
It is unfortunate that check-out facilities are not available yet. Once they are in place, passengers would be able to check their baggage through to KL Sentral at foreign airports. For this to happen, the International Air Travel Association (IATA) has designated a special code "XKL" for KL CAT.
The development of the KLIA Express by its concessionaire Express Rail Link Sdn Bhd. (ERLSB), can be best described as "full of suspense". The construction period was marked with more than a few moments when many wondered whether it would materialize.
Conceived together with the KLIA, the project took off in 1996. However, due to a multitude of circumstances, including the currency crisis of 1997 as well as the ripples caused by the sacking of former Deputy Prime Minister Datuk Seri Anwar Ibrahim, the project proceeded at an extremely slow pace. ERLSB also lost the Abrar Group as one of the three original shareholders in 1998. Only TH Technologies Sdn Bhd and YTL Corporation Bhd remain as shareholders today.
Until 1998, the only evidence the public had that the project was still alive was little more than a few concrete bridges over the Putrajaya wetlands. A turnaround was certain in 1999 when a financing package of RM1.4bil was secured from four German banks. After that, construction went on at almost break-neck speed.
"I am certainly joyful that the project has at last been completed," said ERLSB chief executive officer Dr Aminuddin Adnan during one of the many interviews he gave as completion was within sight. His happiness, not to mention relief, is certainly real as he has been with the project from day one.
Celebrations aside, one could say that today is in fact more of a beginning than the end for ERLSB. While the long and often tortuous path of construction is thankfully over, the road ahead may be just as daunting and filled with challenges.
One cannot help but remember that public transport in Malaysia has not fared very well. The relative affluence of this country has allowed cars to triumph, leaving public transport extremely unpopular. The financial problems suffered by the two light rail transit systems, triggered by lower than expected passenger loads, further underscored the problems faced by public transport operators.
Indeed, transport experts, both in the private and within government circles, worry that ridership volumes may become the KLIA Express' greatest challenge. The target of 10,000 passengers a day, or a 20% share of the 14 million passengers who use KLIA annually, would be a bit of a struggle to achieve, they said.
Reasons given for their concern range from the Malaysian habit of preferring their cars, to the price of the one-way ticket, which has been set at RM35, to the fact that people have been managing to get to KLIA rather well in their own cars.
Aminuddin, however, insists that the ERL is different from both Putra-LRT and Star-LRT in terms of the people and destinations it serves, as well as the level of convenience it provides to commuters.
"Air passengers regard the importance of time differently from other commuters," he said.
Fortunately, public transport awareness is slowly, but surely, on the increase. In that sense, KLIA Express has the benefit of coming on-line after the trials and tribulations of the pioneer LRT systems.
It also gains from increased integration with the other modes of public transport. Through the integrated transport hub of KL Sentral, KLIA Express virtually forms part of the Klang Valley's efficient rail-based public transport network, allowing easy transfer of passengers between them.
As KL Sentral is also a station for Keretapi Tanah Melayu Bhd's intercity trains, passengers from other parts of Peninsular Malaysia can easily transfer from trains to the KLIA Express to get to KLIA.
While air-rail links from around the world have proven popular, a lot of effort has still got to be put into encouraging more people to use the train. Operators from around the world are not only focusing on air passengers alone, but also those who are not taking planes, especially the hordes of "meeters" and "greeters".
Mindful of the increase in travel costs when new airports, are built far away from the city, air-rail link operators have come up with ingenious fare packages to make the journey for those accompanying affordable. This was the subject of an article written by International Air Rail Organisation director-general Andrew Sharp which was published in this month's International Rail Journal. Sharp says a good example is Hong Kong's Airport Express, which, to encourage more non-flying commuters, introduced a free same-day return ticket. This allows people accompanying airline commuters to go to the airport and return at the cost of a one-way ticket. For airports with high short-haul passenger volumes (where many people fly out in the morning, then fly back in during the evening), he adds that return-tickets-for-the-price-of-a-one-way-fare deals can be broken into different time periods. "Heathrow Express gets round the problem by selling two special low-price day return tickets at Paddington; one issued from 5am and valid for return before 3pm, and the other sold from midday and valid until the last train," Sharp says.
For the moment, ERLSB has not announced any ingenious packages, offering only a one-way ticket for RM35 and a return ticket, which is double that amount.
Other "value added" services help attract passengers too. Heathrow Express pioneered the "Baggage Direct" service where passengers could deposit their luggage at a counter at the airport before boarding the train into London. Heathrow Express would then deliver the luggage to the passenger's hotel, allowing them to travel direct to meetings or conferences without needing to lug their bags around. Again, as KLIA Express would not be offering check-out services yet, a service similar to Heathrow Express' Baggage Direct would certainly be welcomed.
Nevertheless, Aminuddin said ERLSB has also taken steps to provide greater convenience to passengers and would soon be offering shuttle bus services from KL CAT to hotels in the city. "We have applied to the Commercial Vehicles Licensing Board to operate six shuttle bus routes. Five will serve Kuala Lumpur while the last one will go to Petaling Jaya," he said.
He added that ERL would be negotiating with other parties, including travel agents, to enable their tickets to be bought outside KL Sentral and KLIA. Ultimately, train tickets could be incorporated into airline tickets, or at least issued together with it.
After having successfully overcome many hurdles to get the system running, it should not be too difficult for ERLSB to face the challenges of making its product one of the best in the world.
Clipart You See In This Web Site Are Courtesy Of Real Estate Clipart
This Website is designed By YKHUN
Copyright © 2004 [D-Choice.Com]. All rights reserved.
Revised: July 20, 2008