To SELL, BUY, LET OR RENT Offices, Shop Offices, Shop Houses, Serviced Offices/Business Centre, Shopping Mall, Hotels, Factories, Condominiums, Apartments, Serviced Apartment, Factories and Land In Malaysia

+6012 - 2080 366
603 - 8210 2028
OR

$$$$$$$$$$$$$$
Get Ready To Go Commercial
For years the main driver of the property market, the residential sector could now be handing the reins over to commercial properties to propel future growth, due in part to the advent of Real Estate Investment Trusts (REITs).

"The market, which was aided by a robust economy and positive fiscal policies last year, should see a stable 2005 on the back of increased activities in the commercial and agricultural sectors,"said Deputy Finance Minister (I) Datuk Dr Ng Yen Yen during the unveiling of the Government's 2004 Property Market Report (PMR) recently.

"With REITs as an alternative investment instrument, demand for quality commercial properties should increase," she added, alluding to the fact that several companies planning to create such trusts are now scouting for assets capable of deriving lucrative yields to include in their portfolios.

Among the most competent properties that can deliver attractive returns to REIT-holders are well-occupied office buildings, retail complexes, hotels and industrial premises.

Office market growing

In the office sub-sector, Ng, referring to the PMR prepared by the National Property Information Centre (Napic), a unit of the Ministry of Finance's Valuation and Property Services Department, noted that overall occupancy remained on an upward trend, recording an average rate of 82.2 per cent during the fourth quarter of 2004 (Q4, 04). This was a 2.2 per cent improvement over the previous corresponding period, despite the addition of four million square feet of space to the sub-sector, bringing total existing office supply in the country to 145 million square feet.

The improved take-up was seen in most States, including Kuala Lumpur, Selangor, Johor and Penang.

In Kuala Lumpur, Napic reported that as at Q4, 04, there was 63 million square feet of completed office space in 371 buildings, of which 79.7 per cent was occupied.

The most sought-after area was Jalan Ampang, where its 23 buildings recorded an 85.5 per cent occupancy, while lower demand in the Golden Triangle's 44 buildings brought down the city's average by capturing a 75.1 per cent take-up.

Napic's report disclosed that the State with the strongest year-on-year occupancy growth was Selangor, where 83.1 per cent of its 19.7million square feet in 122 buildings was taken up in Q4, 04. In Q4, 03, it was 75.9 per cent on the back of 19.4 million square feet.

Other States that recorded occupancy increases included Johor, where its 202 buildings with 9.3 million square feet recorded a 69.2 per cent take-up - an improvement against the 2003 performance of 68.6 per cent in 8.9 million square feet.

In Penang, absorption improved to 70.8 per cent in its 215 buildings with 10 million square feet, as compared to 67.9 per cent in 9.8 million square feet in the previous corresponding period.

With the better occupancies, Napic also noted an increasing supply of new space.

In KL, for instance, it reported that 241,000sq ft in two buildings located in the suburb and within the city centre area were completed during the quarter under review, but that in the same period, another 38 buildings with a total of 12.3 million square feet were at various stages of construction. Of this, over half was in KL's
suburban areas.

Napic also noted that in the planned supply stage, eight buildings with 10.5 million square feet were given the nod for construction, with the focus again being in the suburbs.

In Selangor, construction was more cautious, with no new buildings completed and no building plans approved during the period under review.

However, the agency said four buildings with almost 690,000sq ft were at various stages of construction, located in Petaling Jaya, Subang Jaya, Seri Kembangan and Shah Alam.

South in Johor, the office sub-sector was slightly more active, with a 12,000sq ft building in Segamat completed, and another 10 containing 1.3 million square feet poised to be added on.

The picture was almost a mirror of Penang in the north, where a 35,000sq ft building in the Bayan Baru/Sungai Nibong/Glugor area was completed during Q4, 04 and another eight with 647,000sq ft at the incoming supply stage, located in George Town, Bayan Baru, GreenLane and Butterworth.

However, unlike Johor, building plan approval for nine buildings accommodating 560,000sq ft was issued during the period.

Shopping on the rise. In the shopping complex sub-sector, occupancies and supply also increased during Q4, 04, rising to 79.4 per cent on the back of 520 existing centres with 76.6 million square feet from 77.9 per cent in Q3, 04, when there was 54 fewer properties and four million square feet less space.

In KL, Napic said 81.9 per cent of its 19.6 million square feet of retail space was taken up - an improvement from the 77.9 per cent occupancy in 18 million square feet that the agency said existed at the end of 2003.

In terms of demand, its data revealed that centres in parts of the city such as Bangsar, Pudu, Lebuhraya Persekutuan, Ampang/Ulu Klang and Batu enjoyed tenancies of between 92.8 per cent and 98.5 per cent, while the poor performing areas with less than 60 per cent take-up were Jalan Ipoh and Loke Yew.

During the quarter under review, Napic said 176,000sq ft in two new centres located in Tun Razak and Ampang/Ulu Klang were completed, while another 5.7 million square feet were in various stages of construction. In the same period, 31 projects with 6.7 million square feet were at the planned supply stage.

Selangor's shopping complexes registered better occupancies than KL's, with an average 89.5 per cent tenancy on 16.4 million square feet. In 2003, Napic said 86.3 per cent of the 16 million square feet that existed at that time were occupied.

The agency added that during Q4, 04, 12 projects with almost three million square feet of new space were added in PJ, Subang Jaya, Seri Kembangan, Shah Alam and Klang while incoming supply stood at 683,000s ft in two centres located in Shah Alam and Cheras/Kajang.

In Johor, 64.6 per cent of its 9.2 million square feet of retail space in 58 buildings were taken up - a slight improvement from the 62.4 per cent captured on 54 centres with 8.8 million square feet in 2003.

However, the still mediocre occupancy doesn't seem to have suppressed desire among developers there to increase shopping stock - although no new projects were completed during Q4, 04, 26 new centres with a whopping 11.2 million square feet were either at various stages of construction or given the green light to go during the period.

In terms of occupancy, Penang's shopping complexes fared slightly better than Johor's, recording an average of 67.8 per cent spread over 72 centres with 9.8 million square feet. A year prior, it was 66.9 per cent for 9.1 million square feet.

During the quarter under review, a 262,000sq ft centre in Green Lane was completed, but 10 projects were recorded at the incoming supply stage, containing 1.6 million square feet.

As a sign of things to come, the quarter also saw plans for 19 new centres with 3.3 million square feet being given the nod.
By Anna Chidambar and Andrew Wong
- Property Times 21 May 2005 issue
See Also:-
Other Services Available Upon Request Call Us For Free Quotation
Want To Rent Office Space?
Contact us at D-Choice Properties
D-Choice Properties is a legally registered real estate agent in Malaysia. Click here to know more about us. There are no charges for using our services to help you source an appropriate traditional offices. All the main operators in Kuala Lumpur are included without bias to any one of them. Choose the locations that suit you best and we will give you all the details you need to make direct cost comparisons. To Rent An Office, complete the form below and submit to us and a real person will attend to you immediately. To Sell/Let Your Office, Click Here. To Buy An Office Click Here.
Why Base Your Office In Kuala Lumpur, Malaysia?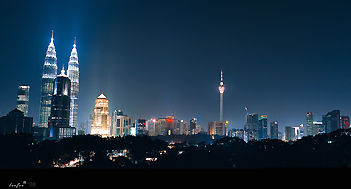 As the commercial capital of Malaysia, Kuala Lumpur is situated midway along the west coast of Peninsular/West Malaysia, at the confluence of the Klang and Gombak rivers in hilly country west of the Main Range. It is about 25 miles(40km) from the coast of the Straits of Malacca and her ocean port, Port Klang. Kuala Lumpur sits at the center of the Peninsula's extensive and modern transportation network, serving as the ultra-modern cultural, commercial and transportation center of Malaysia. In 1974 Kuala Lumpur of an area of 243 sq km was designated the Federal Territory status. As the commercial capital and largest city in the nation with a population of 1.3 million (2000 Census), it is to some extent a reflection of the rest of the country. The residents of Kuala Lumpur are predominately comprised of Malays, Chinese and Indians. The ethnic mix is evident in the various dialects, unique cuisines and diverse cultural offerings. Thus in Kuala Lumpur, as in the rest of Malaysia, one will witness extraordinary diversity - in customs, religious beliefs, dress, cuisine, even language, although English is widely spoken.
Kuala Lumpur moves at an extremely fast pace. Today, like other countries in the region, Malaysia is experiencing phenomenal economic development. In KL, this is particularly evident, where people work at a frenetic pace and where huge signs remind the masses of "Vision 2020," Prime Minister Dr. Mahathir Mohammed's goal to have the country granted "developed nation" status by the year 2020. The vision must be catching on: every other day another super-mall, office complexes, with scores of modern stores and shops, goes up in another suburb. No longer is the economy reliant solely upon the export of the country's natural resources, such as spices, rubber and palm oil. It now boasts not only a national car, the Proton, but also aims to become the technology and financial center of Southeast Asia. Home to the "Multimedia Super Corridor," this city is highly regarded as the most pro high-tech business center in Asia. One of the newest airports in Asia, the modern KLIA offers daily direct flights from all over the world, making it easy to do business here.
Kuala Lumpur has emerged as one of the most progressive cities in South East Asia, a bustling metropolis striding confidently into the twenty-first century. Kuala Lumpur, or KL as the locals universally refer to it, has been transformed with a metropolitan population of 1.8 million. Skyscrapers have sprouted in the place of rubber plantations, with mosques and traditional Chinese shops still hugging the space below. In many ways, Kuala Lumpur offers all of the best parts of other South East Asian cities in one easy to get around package. Like Bangkok there are frenetic street markets, well-preserved historic districts and hundreds of hawker stands. Unlike Bangkok, though, KL also has the air-conditioned malls and office complexes, the efficient public transport system and the cleanliness of Singapore.
Any visitor to Kuala Lumpur will be struck by its many contrasts. On one hand, it is home to enormous modern projects, such as the Petronas Towers, which loom large over the city. On the other hand, there is still plenty of colonial charm reflected in many older buildings, as well as peaceful, understated architecture seen at some of the several mosques scattered about the town. The simple, but ubiquitous, outdoor hawker stalls -- serving up a variety of local specialties for under US$1-- are still generally the desired eatery for most Malaysians. At the same time, one can hardly go five minutes into lunch without hearing someone's hand-phone go off at the next table: another important business deal, no doubt.
Discovering KL (as locals affectionately call it) is like traveling through a time tunnel. Here, vivid traces of history continue to influence and inspire a country set on becoming a fully industrialized nation by the year 2020. You will see gleaming ultra-modern office skyscrapers standing magnificently next to rows and rows of quaint century-old, two-story shopoffices, and on six-lane superhighways, rush hour traffic often appears to be an elongated parking lot. Somewhat surprisingly, there are still remnants of the old kampungs, traditional Malay villages, within parts of KL. Haute cuisine beside hawker stalls. Kuala Lumpur has grown by leaps and bounds since its early days as a tin-mining town.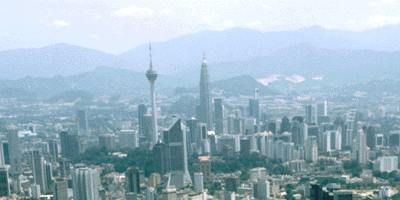 Ethnic Chinese, Indians and Eurasians are all integral parts of the eclectic ethnic mix, which is governed by the majority Malays. In contrast to its troubled neighbor, Indonesia, Malaysia is a bastion of tolerance where each faith and its traditions are respected and protected. Kuala Lumpur to many Malaysians is quite simply Ibukota, or the 'Mother City', the epicenter of Malaysia's economic, political and cultural life. Today, the city is at the heart of an 'Asian Tiger' economy that has hurdled the worst of the recent regional economic crisis to regain its place as a world leader in the electronics and semi-conductor industries.
What Is the Cost Of Living In Kuala Lumpur?
Based on the latest research by HSBC, the cost of living in Malaysia adds up to RM7,200 a month for a couple with two children, and RM3,000 a month for a single person. This includes grocery, car maintenance and parking, utilities, transportation expense, education and recreation. Excluded are personal income tax, upscale entertainment, accommodation and travel.
The market for rental housing and apartments in the Kuala Lumpur area is large and reasonably priced by regional standards. A furnished, three-bedroom apartment in a prime area rents for RM2,800 to RM9,000, while a furnished house in the same location costs RM3,500 to RM15,000.
There are a number of international schools in KL offering British, American, French, German, Japanese and Chinese curricula. Tuition fees at the International School of Kuala Lumpur (US curriculum) range from US$6,700 for kindergarten to Grade 5 to US$8,400 for Grades 9-12.
Salaries for stay-in maids cost from RM700 to RM900 a month. Check the classified ads in newspapers for agencies. Maids from the Philippines, Indonesia, Thailand and Bangladesh can also be hired but government levies are imposed.
Gardeners cost between RM200-300.
Prices of selected consumer items
McDonald's Big Mac - US$1.13
Pizza Hut (12-inch pizza) - US$5.79 to US$6.58
A can of Coke - US$0.24
A can of beer - US$1
A pack of premium cigarettes - US1.10
1.5-liter bottle of mineral water - US$0.30 to US$1.32
275-g box of cornflakes - US$0.79 to US$1.32
Loaf of wholemeal bread - US0.47 to US$0.66
Malaysia Catching Up Singapore In Business-Hub Game
MALAYSIA has been often dubbed the ``lucky country'' because of its rich mineral resources, including natural rubber, cocoa, crude oil and natural gas. However, it has not rested on its laurels but has been racing over the past three decades into the 21st century.
The fruition of Malaysia's global competitiveness as an investment destination can be witnessed in the multinational corporations' (MNCs) relocation of their regional headquarters from Singapore to Malaysia, such as Taiwan-based global shipping firm Evergreen Shipping that recently transferred its shipping base.
In the nucleus of Malaysia's economic prosperity, symbolized by the world's tallest skyscraper Petronas Twin Towers, was the Malaysian Industrial Development Authority (MIDA), principal statutory agency for the promotion and coordination of industrial development in Malaysia under the Ministry of International Trade and Industry (MITI).
MIDA is the first point of contact and one-stop service window for foreign investors who intend to set up corporations in Malaysia. It provides all services dealing with federal government approval to investors from A to Z.
Pro-Business Policy
Malaysia's market-oriented economy and government policies give foreign companies opportunities for growth and generate profits that have made the country a highly competitive manufacturing and export base in Asia.
It now allows foreign investors to hold 100 percent equity, irrespective of level of exports with the exception of certain products Malaysian companies have the capability to produce.
A notable system in the Malaysian government is that the MITI minister regularly holds dialogue with the private corporate sector including foreign businesses, while maintaining its communication channels with the private sector in various forms including e-mails.
It exerts all-out efforts in instantly solving any complaints tendered by the private sector. This makes the business environment more favorable for foreign firms there, MIDA said.
Looking Into Long-Term
``Foreign companies here are pleased with Malaysia's long-term proposition and not just a quick fix for a short period. One of the key attractions here is this intangible partnership relationship that the government develops, not a confrontation between the government and private sector,'' said Stewart Forbes, executive director of Malaysian International Chamber of Commerce and Industry.
``Regarding long-term strategy, the comfort factor is vital. By creating a favorable living and business environment, we make foreign businessmen residing here concentrate solely on working,'' said MIDA Director General Datuk Zainun Aishah Ahmad.
Distinguished from Korea, where the President only serves for single five- year office term, incumbent Malaysian Prime Minister Dr. Mahatir bin Mohamad has been in office since his inauguration in July 1981. This enabled Malaysia to secure political and social stability, as well as sustain consistency in government policies like the Look East Policy and Vision 2020.
``Political stability is the most important factor in attracting foreign investments. It removes investors' apprehension and brings consistency in government policies,'' she stressed.
This business-oriented environment has today resulted in Malaysia being one of the largest recipients of foreign direct investment (FDI) among developing countries.
Malaysia would be even a more attractive market than Korea with the establishment of the ASEAN Free Trade Area (AFTA) by 2003, when intra- regional tariffs will be reduced to a minimal level of between zero and 5 percent, according to MIDA.
Adding Value to Labor
China's emergence as an exceptional investment destination and a location for regional network for MNCs is a threat to Malaysia, especially with its labor costs rapidly rising. Malaysia seeks answers to overcome China's challenge in labor education.
``Education is our top priority,'' said Datuk. ``All costs are rising. In terms of labor cost, we can't compete with China. The problem is the value of labor. By educating our people, we seek to create added value in our export goods.''
About 15 percent of total public development expenditure of Malaysia is allocated to promoting education, and urging overseas studies under the government's five-year development plan.
As a result, quality of Malaysia's human resource is now one of the best in the region.
Infrastructure for New Millennium
One of the greatest advantages to manufacturers in Malaysia has been the nation's persistent drive to upgrade its infrastructure. Today it boasts of having one of the most well developed infrastructures among the newly industrializing countries of Asia.
A landmark event was the completion of the Malaysia's new airport Kuala Lumpur International Airport that opened in mid-1998. The other achievement is the Cyberjaya, Malaysia's first state-of-the-art intelligent city and the nucleus of the country's Multimedia Super Corridor (MSC), a grand, long-term, multi-phase industrial development plan brought up by Dr Mahatir, and Putrajaya, the federal government's new administrative center.
The creation of the MSC is a core strategy for Malaysia to realize Vision 2020, the nation's strategic plan that began in 1996 to elevate the country to the developed nation status by the year 2020.
The MSC, located 25 km south of capital city Kuala Lumpur, is 15 km wide and 50 km long. It may propel Malaysia to the next level of economic development to the knowledge-based economy.
The city not only aims to provide the ideal growth environment for local companies to transform themselves into world-class companies, but also expedite the entry of foreign investors into the nation, by providing them with opportunities to use its facilities as a global test bed and as a hub for their regional operations in Asia.
Cyberjaya has already relocated some 200 foreign and local companies' regional offices and research and development centers, as well as Multimedia University, smart homes and smart schools.
Korean Times April 25, 2002 KUALA LUMPUR
By Kim Sung-jin
Korea Herald correspondent